Perfectly Perforate Sheet Metal with a Perforating Press from OAK Press Solutions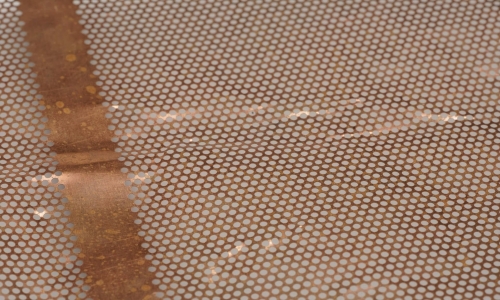 Perforated sheet metal, or perforated plate or screen as it is often called, is used to make a pattern of holes or slots for applications needed in a wide range of industries. It can be made into different sizes and shapes. While many different metals are used, the most common include stainless steel, aluminum, copper, brass, and galvanized steel. In this post, we will take a closer look at perforated sheet metal made by perforating presses and discuss the benefits and applications.
Perforated sheet metals can be quite different from one another with differences in general size, metal used, pattern, and gauge thickness, as well as the shapes of the perforations which can be square or round or any other shape!
Benefits and Application of Perforated Sheet Metal
Perforated sheet metal, made by perforating presses, is used in many different commercial and residential buildings because of its many benefits, including:
Natural light and ventilation
Lowering noise levels
Energy saving
Slip resistance
…and more!
There are many industries that use perforated sheet metal and for a variety of reasons. The industries that you are most likely to find perforated sheet metal applications include:
Architecture
Construction
Automotive
Chemical
Food and beverage
Chemical
At OAK Press Solutions, we offer the industry's most reliable perforating presses that are perfect for making a variety of different perforated sheet metal pieces. If you have any questions, or would like more information, do not hesitate to contact us. You can also learn more about our perforating presses by clicking here. We look forward to hearing from you and helping you with all of your high-speed press needs today!